The 2017 MAT End-of Year-Show: Re-habituation has a full line-up of events including an exhibition on Friday, May 19, and a concert on Saturday, May 20, encompassing work by over 50 artists and researchers.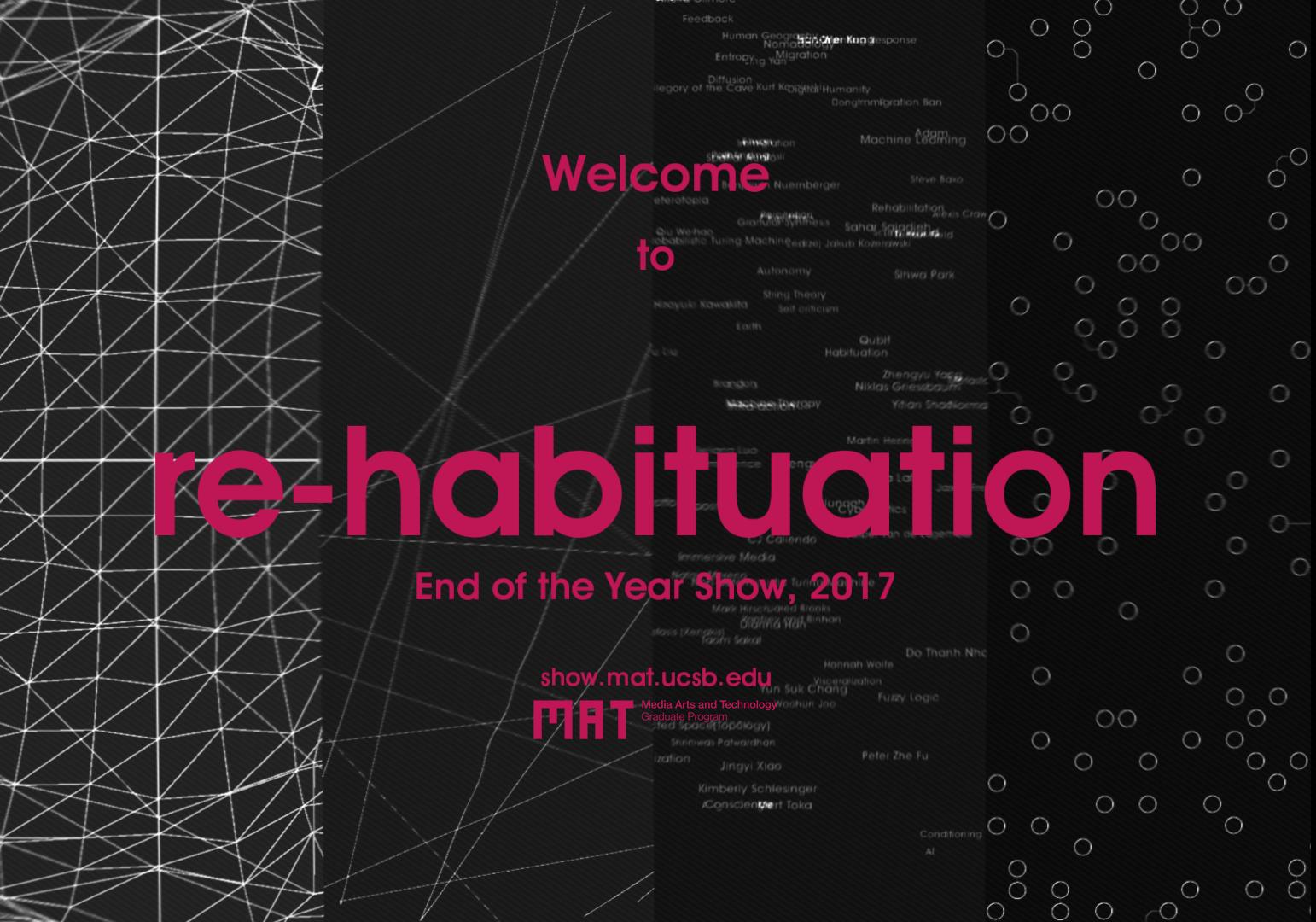 The Media Arts and Technology (MAT) Program at University of California, Santa Barbara presents the 2017 End-of-Year Show: Re-habituation at the California NanoSystems Institute. Re-habituation encompasses work by over 50 artists and researchers from the MAT Program, AlloSphere Research Facility, Experimental Visualization Lab, Four Eyes Lab, MIRAGE Lab, Re Touch Lab, Systemics Lab, and transLAB. This event is an annual showcase of new graduate student and faculty work connecting emergent media, computer science, engineering, architecture, electronic music, haptics, and digital art research.
There will be an exhibition on campus in addition to a concert in downtown Santa Barbara.
Exhibition Opening
Friday, May 19, 5-9 p.m.
CNSI, Elings Hall, UCSB
EoYS "Re-habituation" Concert Event
Saturday, May 20, 6​-9 p.m.
SBCAST (Santa Barbara Center for Art, Science and Technology)
513 Garden Street, Santa Barbara, CA
All events are free and open to the public. For more information about the End-of-Year Show at CNSI and SBCAST including the full schedule of events, click here.
Re-habituation confronts the challenge of refocusing critical attention on significant signals in an environment of increasing noise. Under challenging circumstances, it recovers lost habits of attention and discernment and proposes new forms of artistic expression and creative engagement.

Click here to check in to the event on Facebook.