The Graduate Division is pleased to announce the ​winners for two awards ​honoring graduate students who have distinguished themselves in the area of undergraduate research supervision: Nicholas Naclerio, Ray Adkins, Alyssa Lawson, Yi Ding, Yessica Green Rosas, Aili Pettersson Peeker, Olga Faccani, and Nitzan Navick. Read on to find out more about our awardees!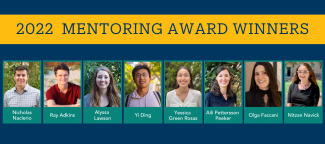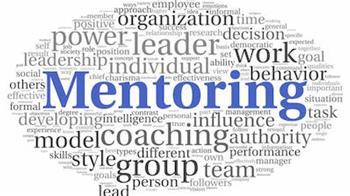 The Graduate Division is pleased to announce the winners for two awards honoring graduate students who have distinguished themselves in the area of undergraduate research supervision. The Fiona and Michael Goodchild Graduate Mentoring Award is available to students in the College of Engineering; Mathematical, Life, and Physical Sciences Division of the College of Letters and Science; and the Bren School of Environmental Science and Management. The Carol Genetti Graduate Mentoring Award is available to students in the Humanities and Fine Arts and Social Sciences Divisions of the College of Letters and Science and the Gevirtz Graduate School of Education.
These students are recognized for their excellence in and contributions to undergraduate research supervision and for encouraging others to become involved in these research efforts. Each of the winning students receives a $1000 award. Read on to find out more about our awardees!

NICHOLAS NACLERIO // Mechanical Engineering
Research Interests
My research is in the mechanical design of soft robots. I use compliant plastics, rubbers, and fabrics to create flexible devices that can safely interact with humans and passively adapt to their environment. My recent work has been on a plant-root inspired burrowing robot that can "grow" into the ground.
Mentoring Experiences
I have had the privilege of mentoring numerous undergraduate, master's, and PhD students at UCSB. My undergrad mentees are building a payload that will go to space, have authored five journal and conference papers, and have gone on to prestigious academic and industry opportunities. Mentorship plays an important role in my graduate career and is a major factor in my decision to become a professor.
Meaning of the Award
I am honored to be recognized for my mentorship. It is an aspect of my PhD that has been very impactful to me, and hopefully my mentees, but is not always the most visible on paper.
RAY ADKINS //Physics
Research Interests
My research focuses on the physics of materials made from biological components. In one project I study systems made from the proteins kinesin and microtubules, which together are responsible for a variety of cellular motion. The materials made from these components consume chemical energy and do work, just as they do in the cell, giving rise to unique properties that cannot exist in more traditional materials. Another system I work with are millimeter-scale membranes assembled from rod-like viral particles. These membranes behave just like small biological lipid membranes, but deform on much larger length and time scales. I use these to study the transition from flat membranes to spherical vesicles at high temporal and spatial resolution.
Mentoring Experiences
The most valuable experiences I have had during my PhD have been the many opportunities to mentor undergraduates. I began mentoring as a way to give back, due to the excellent mentorship experiences that I had as an undergraduate. So far, I have worked closely with seven mentees, who began with little or no previous research experience. It has been extremely rewarding watching them gain research skills, and ultimately develop independence in the lab, develop their own ideas and continue their research careers into graduate school. To me, mentoring is an avenue to both engage with students, as well as to learn how to manage a research group. Mentorship can be very time consuming, but the rewards far outweigh the cost!
Meaning of the Award
I try to be the best mentor that I can, but I always believe that I can do better. Receiving the Fiona and Michael Goodchild award reinforces my confidence in my ability as a mentor. I have been fortunate to have worked with many excellent undergraduates over the past four years, who I hope I have made a positive impact on. Throughout my research career, I will continue to make mentorship a top priority.
ALYSSA LAWSON // Psychological & Brain Sciences
Research Interests
My research is focused on understanding the cognitive aspects of learning as well as how different types of technology can help or harm learning. The main project I am working on now is trying to understand how certain individual differences may influence one's ability to learn new material and how this impacts learning from different types of technology (i.e., online learning, immersive virtual reality, multimedia lessons). I also aim to figure out how to enhance learning using different technologies to help all learners develop a deeper understanding of the material.
Mentoring Experiences
One of my favorite aspects of being a graduate student is being able to mentor undergraduate students. I have had incredible mentors in my life who are the reason that I am where I am today, which has inspired me to be that person for others. I have been so lucky to have plenty of opportunities to mentor undergraduates in many different areas, including mentoring focused on research, GRE preparations, and preparing for graduate school. One of the most rewarding parts of being a mentor is seeing my mentees succeed in whatever avenue they are pursuing. One of the challenging parts of mentoring, especially mentoring multiple students at once, is trying to figure out how to help your mentees in the way that they need help. I struggled with this when I first started mentoring; I wanted to help my mentees in the ways that I thought they needed help, but I've developed a better understanding of working towards listening to what my mentees need and how they need it in order to help them the best I can.
Meaning of the Award
Winning this award is an incredible honor! As mentioned, I have had really amazing mentors throughout college and grad school, specifically Drs. Jessica Walker, Ji Son, and Richard Mayer, who have inspired me to become a passionate and caring mentor. All I want in my mentoring relationships is to be seen as someone who is willing to help no matter what the issue is, and I feel like this award demonstrates that my mentees do see me as this person. I also want to note that I would not be the mentor I am today without all my lovely mentees -- in my lab, my classes, and through different programs on campus. They are the ones who helped me develop and hone my skills as a mentor.
YI DING // Computer Science
Research Interests
My research has primarily been driven by the desire to understand the variability in human behavior with the goal of improving how we interact with increasingly intelligent machines. My investigations thus far have primarily taken a multimodal and multidisciplinary approach involving the application of machine learning techniques on human-centric data. Although my work primarily falls under the purview of Machine Learning and Human Computer Interaction, I draw deep inspiration from Psychology, Sociology and Cognitive Science domains. By understanding human variability and improving the modeling of this uncertainty, I believe we can achieve better and richer interaction with artificial intelligence. A key goal is to enable machine learning to understand the innate ambiguity in human multimodal communication such as implicit intentions or emotions.
Mentoring Experiences
I have had the great pleasure of serving as the formal research mentor for 17 high school and 7 undergraduate students. I was fortunate to meet a steady stream of students to help me with research through a variety of mentoring programs (such as the Research Mentorship Program and the CS department's Early Research Scholars Program), classes, and the FourEyes Lab. I have found that one of the most important lessons I've learned in graduate school is that trying to teach a concept clearly is the best way to learn a lesson. I also do my best to pass on the knowledge that I acquired as a graduate student to my students: to be proactive, to ask questions, and be critical. I like to have each student teach introductory concepts to each other or try to have them teach it to me. I have found that students are typically humbled by the process and absorb the concepts at a much deeper level and faster pace. I also find that frequently I learn very interesting new concepts that inspire further research.
Meaning of the Award
I am deeply honored to receive an award for mentoring and it was not something I expected. In many ways, it feels that the award belongs more so to the wonderful students I've had the opportunity to work with. Mentoring them has benefited my research greatly. Working with excited students did wonders for my motivation and has helped me become better at communicating research. It is genuinely wonderful to see others succeed through my support, and the feeling is more enduring than a publication at a great venue. I hope that my positive and rewarding experiences can motivate others to pursue as many mentorship opportunities as possible.

YESSICA GREEN ROSAS // Counseling, Clinical, and School Psychology
Research Interests
My research interests focus on reducing mental health disparities and increasing access, engagement, and outcomes in mental health services for Latinx children and families. I am currently working on examining treatment delivery for Spanish-speaking families in behavioral parent training interventions in order to better understand ways to ensure high-quality care.
Mentoring Experiences
During my graduate studies, I have had the honor of mentoring many bright students who are passionate about learning ways to mitigate mental health disparities. It has been wonderful to see the growth in these students and to contribute to the development of their knowledge base and skills in order to support them as they work towards becoming caring professionals in their fields. It has been especially impactful to help students with whom I share identities as both a Latina and a first generation college student, as I can deeply understand the struggles that can be faced while navigating the academic world through these identities.
Meaning of the Award
I feel incredibly humbled to have been nominated for this award. Supporting talented undergraduate and graduate students has undoubtedly been one of the most meaningful experiences that I have had during my academic career, and I have found great joy and excitement in helping students while they navigate the challenging journey that is higher education. I have been fortunate to receive wonderful mentorship myself, which has allowed me to be in a position to help guide students in their own development as passionate scholars. I am excited and motivated to continue working with dedicated students not only during my graduate studies, but throughout my future career as well.
AILI PETTERSSON PEEKER // English
Research Interests
Most of my research tries to bring together cognitive science and literature in one way or another. My dissertation draws on literary studies, neurocognitive research, and intersectional feminisms to reconsider the relationship between empathy and literature. Do we really become better empathizers by reading fiction? I question this popular idea with a focus on the way in which it is closely connected to individualist ideals and ask how two feminist writers-Virginia Woolf and Toni Morrison-have provided expanded models for thinking about empathy. Woolf and Morrison's narrative experimentations expose the patriarchal and racialized "I" that underlies empathy as a myth and can help us imagine new ways of thinking about individuals and the feelings between them.
Mentoring Experiences
I am not exaggerating when I say that my experiences mentoring undergraduates have been the most rewarding experiences I have had at UCSB. In 2018, I created the "Story and the Brain Undergraduate Discussion Group" as a continuation of my summer course "Story and the Brain." Through this student-led discussion group, I worked with students through the process of preparing and leading meetings in which undergraduates, graduate students, and faculty come together to discuss cognitive science and literature. The way I see it, my main role as a mentor is to encourage students to pursue their ideas and to help them find the confidence needed to recognize themselves as scholars, teachers, and writers. Seeing students follow their intellectual curiosity and develop their own ideas is the best part of my job! I have also worked with students on a range of fascinating topics such as interdisciplinary work on biodiversity and creative writing, neuroscience and morality, the role of literary theory in legal studies, the political and personal potential of empathy, loneliness, and archival studies. Today, I have the honor of continuing my mentoring work as the Research Coordinator for the newly founded Trauma-Informed Pedagogy project, a project that addresses barriers to student success by identifying trauma as a concrete cause that impairs students' learning experiences.
Meaning of the Award
This award is a special one for me because a big reason I value my time in grad school so much is the outstanding mentorship I've been fortunate enough to get. Particularly my advisor, Professor Sowon Park, has mentored me to be a better thinker and writer in more ways than I can count, and her support has made the unavoidable struggles of a PhD program so much easier to get through. To me, this award means that I am on the right track to one day becoming the type of kind, rigorous, and brilliant mentor as I've had the luck of meeting throughout my studies. More than anything, however, I am beyond grateful to the undergraduate students I have had the honor of learning from and with during my time at UCSB. I'd like to send a final note of appreciation to those who took their time to write about their experiences to support my nomination for this award. Thank you!
OLGA FACCANI // Classics
Research Interests
In my research, I look at disorientation caused by death, grief, trauma, displacement, and violence in ancient Greek tragedy. Just as Greek drama allowed its ancient audience to deal with traumatic experiences as staged, in a protected space, I believe that it can serve a similar function for modern audiences and allow us to experience uncertainty and change from an artistic and detached perspective. I'm also interested in public humanities and in questions of trauma and disorientation as they inform audiences and actors in live performances. For this reason, I maintain an active collaboration with The Odyssey Project, a theater program between incarcerated youth and undergraduate students.
Mentoring Experiences
As part of my collaboration with The Odyssey Project, I mentor students - free and incarcerated - as they reconstruct ancient texts on stage in their own voices, and leverage storytelling to look at their lives through a heroic lens rather than a criminalized one. I try to empower students with tools to create meaningful connections between ancient myths and their present-day experiences, and to discuss issues of victimization, loss, or resistance. In my work with undergraduate and incarcerated students, I also became aware of the importance of connecting students with resources, such as the ONDAS center for first-generation students, the Transfer Student Center for students in need of support with writing, or the Educational Opportunity Program.
Meaning of the Award
I feel very honored to receive this award, especially because of the tremendous impact that mentors had on my academic life. My experience as an international graduate student at UCSB would not have been the same without the encouragement of mentors and colleagues, who found the time to chat with me over coffee about how to navigate culture shock, or gave me pep talks about how to balance late night calls with family and a busy study schedule. With these examples of support in mind, I'm very excited to continue being a mentor for students, and to help them overcome the struggles of academic life.
NITZAN NAVICK // Communication
Research Interests
My research focuses on organizational communication and technology. I am interested in how technological affordances enable, constrain, and create new ways for organizational members to communicate. Most recently, I have been quite interested in how the adoption of IT solutions and enterprise systems can help to mitigate issues within organizations such as sexual harassment, discrimination, and bias by giving marginalized organizational members more safe and efficacious ways to voice their needs and concerns.
Mentoring Experiences
One of my favorite things to do as a graduate student is to introduce undergraduates to the world of research. I recruit, train, and mentor 4 to 7 undergraduate research assistants each quarter and heavily involve them in every phase of the research process. Among other activities such as speaking on panels to help students get involved in research on campus or learn more about graduate school options, I volunteer with the Department of Communication's Honors program to support undergraduates through their own research projects by teaching them to utilize Qualtrics and SPSS.
Meaning of the Award
Winning this award means the world to me. I take great pride in my mentorship efforts and in my students who continue to impress me with each passing year. As a first-generation student, I have personally benefitted greatly from past mentors at my undergraduate institution (CSU Channel Islands) and here at UCSB, and understand the importance and impact of being a mentor. So, being recognized as a successful mentor is one of the most cherished achievements of my academic career thus far.
Congratulations to all of the winners!