The Graduate Division is pleased to announce the ​winners for two awards ​honoring graduate students who have distinguished themselves in the area of undergraduate research supervision: Jessica Zisa, Natalie Larez, Alejandra Valencia Medina, Sepideh Alavi, Sharon Levy, Laura Pritschet, Shailja, and Zoë Zilz. Read on to find out more about our awardees!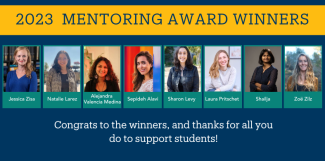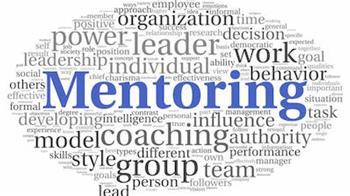 The Graduate Division is pleased to announce the winners for two awards honoring graduate students who have distinguished themselves in the area of undergraduate research supervision. The Fiona and Michael Goodchild Graduate Mentoring Award is available to students in the College of Engineering; Mathematical, Life, and Physical Sciences Division of the College of Letters and Science; and the Bren School of Environmental Science and Management. The Carol Genetti Graduate Mentoring Award is available to students in the Humanities and Fine Arts and Social Sciences Divisions of the College of Letters and Science and the Gevirtz Graduate School of Education.
These students are recognized for their excellence in and contributions to undergraduate research supervision and for encouraging others to become involved in these research efforts. Each of the winning students receives a $1000 award. Read on to find out more about our awardees!

SHARON LEVY // Computer Science
Research Interests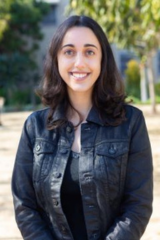 My research focuses on natural language processing, with an emphasis on Responsible AI. I study the various undiscovered and underexplored risks within natural language processing models and their corresponding datasets. Specifically, I focus on problems of fairness, trustworthiness, and safety. These in turn relate to the propagation of social biases, the spread of misinformation, and the reduction of users' physical safety.
Mentoring Experiences
Throughout graduate school, I have been fortunate to mentor fourteen students across various levels, including high school, undergraduate, and graduate. Many of these students were participants in the NSF Early Research Scholars Program, a year-long program that targets second-year undergraduate students who are underrepresented in computing. I have served as a graduate mentor for two years with a group of four students each year and have additionally mentored a group of three alumni from the program. The students I worked with have had a range of prior knowledge in natural language processing and as a result, I have tailored my mentorship styles to meet their needs. These experiences have been an invaluable aspect of my time in graduate school. Engaging in mentorship has allowed me to develop my communication and leadership skills to be put toward my future career path of becoming a professor. These skills will apply to both the mentorship of students in my own research lab as well as teaching undergraduate and graduate classes.
Meaning of the Award
I feel very honored to receive this recognition! It has truly been a pleasure to mentor these students and help them embark on their first experiences in academic research. I hope that it was as rewarding for the students as much as it was for me and aim to continue this throughout my academic career.
LAURA PRITSCHET // Psychological & Brain Sciences
Research Interests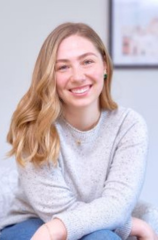 My research leverages techniques from neuroscience and endocrinology to explore how sex steroid hormones impact human brain function across hormonal transition periods (e.g., menopause). My goal is to improve the utility of sex hormones as markers of vulnerability for neuropsychiatric and neurological disorders that are disproportionately skewed towards women, including major depression and Alzheimer's disease.
Mentoring Experiences
The existing dogmas in the field of neuroscience that have held scientific progress back - especially as it pertains to women's health - are in part due to a lack of awareness that there even are oversights. I believe training eager undergraduate students to identify critical knowledge gaps and care deeply about the impact their scientific endeavors can have on human health and society is where we begin to fix this oversight. My favorite question to pose to each mentee has been "what topics keep you up at night?". Watching them enjoy the process and become increasingly independent and passionate about their work has been the most rewarding experiences of my PhD career. I have no doubt that each one of my mentees will mold the minds of the next generation and work to make science more equitable, which makes me enormously proud.
Meaning of the Award
Changing the scientific landscape does not rely solely on our research efforts, but in our ability to help others gain access to science. It is an honor to have my mentorship efforts be recognized by the Fiona and Michael Goodchild Graduate Mentoring Award. I hope to spend every day of my career inspiring trainees to ask pressing scientific questions, challenge existing dogmas, and figure out what drives them. As such, I remain committed to finding new and exciting ways to teach students about opportunities in STEM and to highlight how their unique perspectives can drive science forward.
SHAILJA // Electrical & Computer Engineering
Research Interests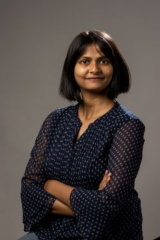 My research centers around modeling neuronal fibers in the human brain as three-dimensional geometrical objects. By understanding the structural connectivity and function of the brain, we can gain insights into neurological disorders like Alzheimer's disease, stroke, and tumors. Additionally, I am investigating the impact of brain surgery on patients with normal pressure hydrocephalus to evaluate the effectiveness of shunt surgery. In our research, we use advanced imaging techniques like diffusion tensor imaging and computed tomography, along with artificial intelligence, to quantitatively study the brain. This approach goes beyond qualitative methods and opens new possibilities for advancements in computational pathology related to different neuronal disorders.
Mentoring Experiences
Motivated by my mentors and my aspiration to cultivate collaborative learning environments, I have dedicated significant effort to mentoring students at various educational stages, including those in pre-college and master's programs. It has been rewarding to watch my mentees develop research skills and become independent in the lab, pursuing their own ideas, and continuing their research careers in graduate school. I take great pride in the recent achievements of my REU students, our collaborative efforts have resulted in co-authored papers that we have successfully submitted to two high-impact journals. One challenge that I face as a mentor is finding time to accommodate the busy schedules of undergraduate students who are actively involved in a wide range of academic and non-academic activities. Despite this challenge, I am continually impressed by how my mentees have been able to effectively handle their workload and produce fruitful research outcomes.
Meaning of the Award
Winning the Fiona and Michael Goodchild award is a great honor for me! This award recognizes my dedication to mentoring and boosts my confidence. Over the years, I have received immense support and encouragement from my mentors at UCSB. As a woman in STEM, the availability and support of my mentors has made a huge impact on my journey. I continue to pay this back by mentoring other women in STEM, sharing my personal experiences with them to foster a supportive mentor-mentee relationship. I am grateful to the UCSB Graduate Division and Fiona and Michael Goodchild for this award.
ZOË ZILZ // Ecology, Evolution & Marine Biology
Research Interests
Broadly, I study how organisms interact with each other in the coastal ecosystems on our coastline. This broad statement covers many fields, so I get to do many different types of research! Currently, I am primarily focused on the connections between coastal marine and coastal terrestrial habitats, and how large land animals (think coyotes, bears, mountain lions, deer) facilitate those connections by eating marine wildlife and then transporting those nutrients inland. I'm particularly curious about how human activities and infrastructure like roads and buildings change these connections. I am also interested in how diseases interplay with these connections, and if coastal mammals have different diseases than their inland counterparts because of their more marine-based diet.
Mentoring Experiences
I've been mentoring undergraduates since 2015 when I began doing research for my master's thesis. I've always enjoyed providing young scientists with the opportunity to get their hands dirty. Because I work with diseases this is often a literal experience! I enjoy the constant challenge of finding the element of my research (or sometimes someone else's!) that fits best with my mentee's interests. I never want these students to do research that doesn't spark their curiosity. This can be tough at times because we don't all start out knowing what we want to do, but seeing a student finally find that thing that makes them tick is such a cool and rewarding experience!
Meaning of the Award
It feels very special to be recognized for all of the mentoring I've done over the past decade, but mostly it just reminds me to thank all of the undergraduates and high school students who have put up with my craziness over the years! They are the ones who truly deserve awards. Winning an award like this just reminds me how important it is to keep engaging with students and really trying to make a difference for each individual. Thanks so much for the honor!

JESSICA ZISA // English
Research Interests
My research focuses on centering marginalized voices who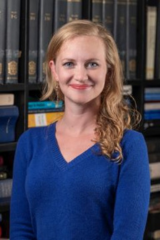 are often minoritized as a part from rather than a part of English literary history. In my dissertation, I take up an interdisciplinary lens - informed by work in the fields of neuroscience, cognitive philosophy, affect studies, feminist and queer studies, and Black feminist and decolonial thought - to examine how fourteenth-century women writers contribute to premodern literary culture by using gender to rewrite the concept of 'woman' and reimagine what it means to be a self who wills in community with others. My research aims to complicate how we study women's participation in premodern literary culture by de-minoritizing how we read and encounter gender in the past so that a plurality of embodied experiences and subjectivities can be heard.
Mentoring Experiences
One of my primary goals as a mentor is to help make the walls of academic research institutions more accessible and inclusive for my students. Over the past six years at UCSB, I have had the great honor of mentoring undergraduate students in a variety of research and educational capacities as an English Broadside Ballad Archive Project Manager, Engaging Humanities Mentor, and as a Graduate Student Instructor. It has been wonderful to help students build self-efficacy in their scholarly abilities and see them find joy in their studies in deeply meaningful and personal ways at UCSB. These mentoring experiences have proved transformational for my undergraduate mentees, and they have also instilled in me a deeper awareness of the community service work that is needed within the university in order to make research and scholarly success more accessible to all students. I am looking forward to building upon this meaningful work next year as the Arnhold Graduate Fellow by providing mentorship support to undergraduates looking to pursue their literary research goals as part of the Arnhold Undergraduate Research Fellows Program housed in the English department.
Meaning of the Award
I feel extremely honored and humbled to receive this award because the work of mentoring is very near and dear to my heart. I would not be where I am today had it not been for the quality of mentorship and care I received through each stage of my academic journey as a nontraditional student. My work today as a mentor grows from a deep sense of gratitude and responsibility to share this invaluable gift with my mentees in return. It is a great privilege to continue this work of holding space for future generations of students to explore what scholarly success looks like for them as part of a larger research community of learners.
NATALIE LAREZ // Counseling, Clinical & School Psychology
Research Interests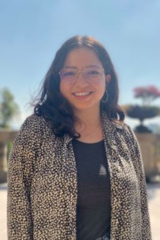 At UCSB, Natalie's research focused on community-based work with adolescents in school and community settings. Clinically, she has worked in schools, the university-based clinic with families, and an inpatient psychiatry and addiction medicine unit with adults. Natalie's current research interests are focused on improving mental health and substance use prevention efforts for low-income, Spanish-speaking, and marginalized communities. Her goal is to use her research skills and return to Arizona and build a research program that focuses on border health and education.
Mentoring Experiences
I have had various opportunities to mentor undergraduate students. For example, with my dissertation project, I have hired and paid two undergraduate students, from minoritized backgrounds, in order to facilitate opportunities for research and contribute to more equitable paths to post-baccalaureate higher education. As a teaching assistant and associate, I wrote several letters of recommendation and have met with students to talk about graduate school. Something that has become increasingly clear to me in my time here is that academic pathways need to be more equitable and as an aspiring faculty member. The most rewarding experiences of mentoring undergraduate students is when students share that they see themselves in my various minoritized identities (e.g., Latina, first-generation, low-income background) and I am able to affirm their belonging in large academic institutions. The most challenging piece is having to
manage structural barriers that limit some minoritized student's (e.g., undocumented students) ability to be financially compensated for their work.
Meaning of the Award
Winning this award means has meant that I am able to continue building my career towards being the mentor that is able to continue advocating for better systems to support the career development of minoritized students in research and graduate school. It also means that I am able to honor all my mentors that have contributed to my trajectory. My mentors range from family members who have had limited education but taught me core components of mentorship (e.g., encouragement, warmth, care, and steady companionship towards goals) to academic mentors who have shared academic logistics (e.g., writing grants, research skills) that was instrumental in supporting my graduate career. I am truly grateful to have received this recognition and will continue to build a skillset that equitably serves the students I mentor in the future.
ALEJANDRA VALENCIA MEDINA // Chican@ Studies
Research Interests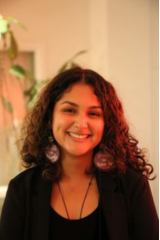 My research focuses on exploring Latina sexuality through the lived experiences of undergraduate Latinas. I am pursuing an interdisciplinary, multi-method, and Chicana/Latina feminist inquiry into Latinas' sexuality in college through pláticas (bilingual conversational interviews) and critical ethnography. Two of my research questions are: How do Latinas perform their sexuality in academic spaces, extracurricular spaces, around campus, and in social scenes? And how do Latinas connect the ways they adorn their body, use their voice, and take up physical space to their sexuality? Ultimately, my scholarship is interested in interrogating aesthetics, community, and resistance using an intersectional lens.
Mentoring Experiences
Throughout my graduate studies, mentoring undergraduate students has been one of my favorite parts of being a graduate student. I have been fortunate to mentor more than 25 students in a one-on-one setting through the Transitioning to Academic Excellence (INT10) course where I have witnessed the positive impact spending 30 minutes weekly can have on a student's life. I have mentored students of diverse backgrounds, including ethnic, racial, gender, and class diversity. Using my own identities and experiences, I work to build a sense of trust between students and myself. I practice active listening and create a space for dialogue, which has allowed students to share their concerns relating to academics, health, and personal life with me. Their trust is critical because this allows me to connect them with relevant resources and we work collaboratively to develop effective solutions to address their concerns. This often results in positive academic performance and improved overall well-being.
Meaning of the Award
I feel incredibly honored to receive this award. As a first-generation student, I have experienced the transformational power of mentorship in my academic journey. I pursued a Ph.D. program because I had professors who saw my curiosities and provided me with the necessary resources to embark on this journey. My mentors were caring, kind, and committed to my success. As a mentor, I aim to provide a space where students also feel heard and cared for. Receiving this award is also deeply humbling and motivates me to continue seeking guidance and advice from my colleagues, mentors, and professors to grow and become a better mentor for all the students I work with. I am grateful to be recognized for my mentorship through this award and want to thank everyone that took the time to support my nomination.
SEPIDEH ALAVI // Counseling, Clinical & School Psychology
Research Interests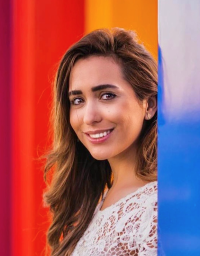 Sepideh M. Alavi is a doctoral candidate in the Clinical Psychology emphasis working with Dr. Maryam Kia-Keating. Her scholarship is on the impact of compassion fatigue, secondary and vicarious trauma, and burnout in health and mental health care providers responding to trauma, and organizational strategies to improve resilience.
Mentoring Experiences
Teaching and mentoring undergraduate students at UCSB has been one of the most fulfilling experiences in my graduate career. I strive to collaboratively explore and identify barriers and facilitators to fostering academic growth with my mentees. In this process, it's important to meet mentees where they are at to facilitate a safe, open, and welcoming space. My goal is to cultivate self-efficacy in my mentees, for them to see their strengths, and feel empowered to pursue their dreams.
Meaning of the Award
This award is very meaningful to me, personally. In part, working with highly motivated students who are eager to learn and go the extra mile to reach their goals, reminds me of my 18 year old self who had just arrived in America after completing high school abroad, and attempting to navigate higher education in the U.S. My mentors have a significant role in my success and I am grateful to be able to give back to students and mentees as they strive to find their pursuits.
Congratulations to all of the winners!