Come out to the Gaucho Professionals Showcase this Saturday, April 27, from 10am-2pm, for an engaging series of alumni and faculty talks. Read on for details about the exciting lineup of events and for more information about the All Gaucho Reunion!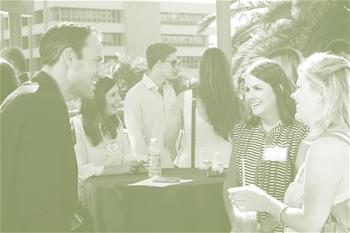 Come out this Saturday, April 27, from 10am-2pm to the Gaucho Professionals Showcase for an engaging series of alumni and faculty talks.
The showcase is an opportunity for UCSB alumni, students, local community members and business professionals to engage in a morning of professional development and networking. The event features industry breakout sessions on technology, entrepreneurship, finance, and education, and a keynote speaker.
Here is the exciting lineup:
10:00am-11:15am: Learning to Work with Intelligent Machines
How are we adapting to intelligent machines as artificial intelligence becomes more important in the workplace? In industries ranging from investment banking to surgery, tools are getting more sophisticated but workers get fewer opportunities for hands-on learning - the very experience necessary to leverage these tools. How can organizations stop blocking learning on the job?
10:00am-11:15am: Financing Innovation and Impact
Join us for a discussion about the growing impact investment market, combining the analytics of traditional investment and the heart of philanthropy. How are investors using capital to generate positive, measurable social and environmental impact alongside financial returns? Is impact investing just a trend, or the best strategy to influence everything from renewable energy to sustainable food production to quality education and healthcare?
11:30am-12:45pm: Defining Student Success
The recent college admissions scandal has brought to light many of the challenges faced by young people. The pressure to perform, succeed, and gain admission to "selective" colleges has led to an increase in anxiety disorders and other mental health problems in today's youth. Join us for a discussion on helping students become independent, responsible thinkers and how to encourage a mindset of continuous learning, not perfection.
11:30am-12:45pm: Gaucho Grown and Green
What do payment processing and toothbrushes have in common? Meet two UCSB entrepreneurs taking on a slice of the environment in very unique ways: PayJunction, a pioneer in green payment technology and PLUS ULTRA, encouraging you to brush consciously!
1:00pm-2:00pm: The Path to Peet's
Go behind the scenes of Peet's Coffee, as Consumer Division President Eric Lauterbach (UCSB class of '89) shares what sets Peet's apart in the premium coffee space. You'll here about Eric's path to Peet's, from large corporations like P&G and Clorox with 4 failed start-ups along the way. We'll wrap up the Gaucho Professionals Showcase with stories of success and failure, passion for your product, and of course, free Peet's!
All events will be held at the Mosher Alumni House.
Click here for more details about the Showcase and here to see the full schedule of events for the All Gaucho Reunion.